Tasha Darling is Archbright's Director of HR Consulting. She works with members to strategize, innovate, and implement HR solutions and provide advice, consultation, and support on various HR issues. Tasha joined Archbright in 2018 with 21 years of HR leadership experience in various industries. We sat down with her to get more insight into her role at Archbright and get advice for other HR professionals.
Describe your job as the Director of HR Consulting at Archbright.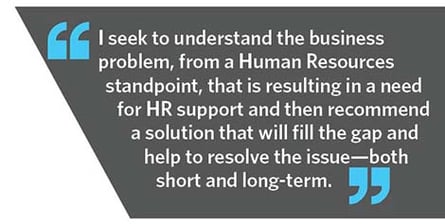 I have several responsibilities as a leader with Archbright, but I spend most of my time in two areas. First, I am responsible for the Human Resources Consulting team, which includes hiring the best HR talent in the market, in addition to the overall performance of the team. Secondly, I have an amazing opportunity to talk with our members through a "scoping" call when they have a need that falls into one or more of the Human Resources Consulting service lines. During that conversation, I seek to understand the business problem, from a Human Resources standpoint, that is resulting in a need for HR support and then recommend a solution that will fill the gap and help to resolve the issue—both short and long-term.
What is something you would like to accomplish in the near future in your role?
As we've added new, amazing talent to the growing HR Consulting team, I'd like to continue providing a consistent member experience related to the process and incorporation of the team's experience, both individually and as a whole, to ensure the members' expectations are being met and/or exceeded. Most recently, we welcomed an Associate HR Consultant to the team who will learn from the Senior HR Consultants and begin to focus on leading the Flat Fee Recruiting Service in addition to supporting the Consulting team.
Tell us something others might not know about your role?
The role is unique in that it requires a vast knowledge of HR with many years of experience practicing HR but doesn't actually require me to do the HR work. Instead, I get to apply all of those years of expertise and HR knowledge to help fill a gap for members related to their HR function. The role relies on my years of experience and knowledge to offer solutions.
What's the most exciting part of your role?
I love connecting with members. Each member has a unique set of circumstances, and the conversations challenge me to organize and recommend a solution to meet each member's needs based on those circumstances. There are so many variations to consider, and each is different.
What's the most challenging part of your role?
So much of HR is about doing the right thing. It's critical to consider every member's unique needs to meet/exceed the expectations. Certainly, there are laws, policies, and compliance, which are critically important and incorporated in every recommendation, but an essential part of my role is communicating, connecting, and building authentic relationships with our members. This is a shared responsibility with the rest of my team, our member services team, and other internal resources.
What is some advice you'd give to someone that's just starting out in HR?
Be authentic and humble, work on relationships daily, and become an expert in HR basics. As soon as your first HR role is a reality, take every opportunity to increase your business acumen so that HR is part of the solution every time.
Are there any resources or tools you'd recommend to other HR professionals?
Archbright! As a former Senior HR leader in a large organization, if I knew about tools such as mozzo and all the resources included as well as Archbright University Courses and the HR Hotline, I could have saved countless hours! In addition, find a network of peers, connect with a mentor, and take advantage of technology and all it offers. There are many resources through LinkedIn that will help, both from the candidate and employee perspectives.

To learn more about Archbright's HR Consulting services or find out other ways Archbright can help you, contact us at info@archbright.com.