Research shows that employers who don't instill a culture of civility in their organizations feel the impact. Incivility multiplies when not curbed—more than twice as many employees in uncivil workplaces vs. civil workplaces report they are hearing more uncivil comments at work than they used to—and organizations spend 13% of their time addressing the fallout of the behavior.
Civil Treatment Workplace for Leaders provides leaders with the skills and insights they need to achieve positive business results and engage employees in ways that inspire their best work.
Rather than focusing on the law exclusively, Civil Treatment Workplace for Leaders focuses on a wide range of behaviors based on realistic business simulations to spark new insights for your leaders. With simple and sustainable learning models and tools, leaders develop skills proven to positively impact workplace culture and business results.
After completing this course, participants will be able to:

Understand how a leader's behavior sets the tone of what is and isn't acceptable
Identify the ways inappropriate behavior negatively impacts the work environment.
Model appropriate workplace behavior.
Take appropriate action after an employee makes a complaint.
Address concerns that stem from employee social media activity.
Recognize harmful behavior that puts the organization at risk.
This program is designed for:
This program has been submitted to the HR Certification Institute for review.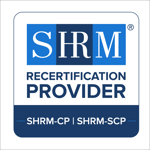 Archbright is recognized by SHRM to offer Professional Development Credits (PDCs) for SHRM-CP® or SHRM-SCP®.
This class is not currently scheduled.