A system of progressive discipline and proper documentation offers protection to the company while creating fairness for the employee.
When feedback and coaching have not corrected performance problems, properly documented disciplinary action delivers a stronger message that performance problems must be remedied. Many employees will then change attitudes and behaviors.
For those who don't, companies may then progress in the disciplinary process without worry.
Note: Discipline and Documentation is offered as a stand-alone class and is also one module in our 3-day Supervisory Skills course.
After completing this course, participants will be able to:

Develop a simple yet effective system of recording observations in an ongoing fact file.
Promote employee fairness and company protection with a 4-step disciplinary action process.
Determine the appropriate disciplinary action.
Document disciplinary action thoroughly and accurately.
Deliver disciplinary action to support improved performance.
This program is designed for:
Supervisors, Managers, and HR Professionals
HRCI Credits:
This program has been pre-approved by the HR Certification Institute.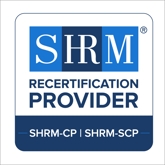 Archbright is recognized by SHRM to offer Professional Development Credits (PDCs) for SHRM-CP® or SHRM-SCP®.