As a supervisor, you are responsible for delivering great results with the help of your team. However, if your team members are not doing their part effectively, it can be nearly impossible.
What if team members know what to do and are still not doing it? What if talking to someone about their performance feels like the last thing in the world you want to do?
This course will help you learn to apply a five-step approach for holding others accountable so that you can be counted on to deliver great team performance and results.
After completing this course, participants will be able to:

Define accountability and the role of a supervisor in holding others accountable for great performance
Identify the most common causes of poor performance and list solutions for each
Recognize conflicting priorities and uncover other forces that may be obstacles to great performance
Acknowledge challenges and plan appropriate strategies for having a tough conversation with someone about his or her performance
Apply a five-step approach so others can count on you to deliver great team performance and results
This program is designed for:
HRCI Credits:
This program has been pre-approved by the HR Certification Institute.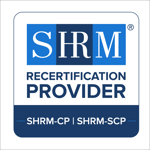 Archbright is recognized by SHRM to offer Professional Development Credits (PDCs) for SHRM-CP® or SHRM-SCP®.