En muchas organizaciones, los leads juegan un papel crucial al vigilar las labores diarias de los trabajadores del de primera línea, asegurándose de que se cumplan las metas de productividad dentro de los estándares de calidad y seguridad. Esto puede resultar difícil si no cuentan con la autoridad organizacional con la que cuenta el supervisor. Por esta razón, los Leads deben desarrollar el poder de la influencia y así lograr tener un impacto.
En el curso de Efectividad del trabajador encargado "Lead", los Leads aprenderán cuáles son las destrezas que podrán usar diariamente; manejar las relaciones cambiantes con sus compañeros de trabajo, establecer vías abiertas de comunicación, establecer expectativas claras y proporcionar la retroalimentación necesaria para mejorar el desempeño.
After completing this course, participants will be able to:

Manejar las relaciones con los empleados que no son leads para aumentar la productividad y el trabajo en equipo.
Usar técnicas de escucha activa para aumentar el intercambio de información de todo el equipo.
Establecer con los empleados expectativas de desempeño de manera eficaz.
Reconocer a las personas que muestran un alto desempeño haciendo uso de un modelo de retroalimentación de tres pasos.
Mejorar el desempeño deficiente usando un modelo de retroalimentación de cinco pasos.
This program is designed for:
HRCI Credits:
This program has been pre-approved by the HR Certification Institute.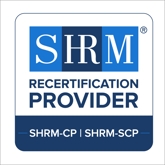 Archbright is recognized by SHRM to offer Professional Development Credits (PDCs) for SHRM-CP® or SHRM-SCP®.
This class is not currently scheduled.