Could a conversation (or avoiding one) be keeping you from getting the results you need? Whatever the issue—from poor productivity or declining quality, to lack of teamwork or strained relationships—it's likely that you're experiencing the effects of a poorly held crucial conversation. A crucial conversation is a
discussion between two or more people where stakes are high, opinions vary, and emotions run strong.
Crucial Conversations® teaches you how to achieve spirited dialogue at all levels in your organization and introduces a set of tools that builds alignment, agreement, and interpersonal communication.
Note: Crucial Conversations is available as either a 1-day public class or a 2-day team training class. Please reach out info@archbright.com for more details about the different sessions.
After completing this course, participants will be able to:

Resolve disagreements—accurately address concerns by talking respectfully, candidly, and skillfully with someone in a safe way.
Build acceptance rather than resistance—give and receive feedback in a way that enhances relationships and improves results.
Speak persuasively, not abrasively— effectively talk about high-stake, emotional and controversial topics.
Foster teamwork—get the right people involved in a way that ensures better decision-making and guarantees commitment and conviction.
This program is designed for:
HRCI Credits:
This program has been pre-approved by the HR Certification Institute.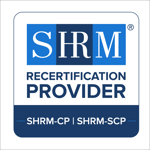 Archbright is recognized by SHRM to offer Professional Development Credits (PDCs) for SHRM-CP® or SHRM-SCP®.