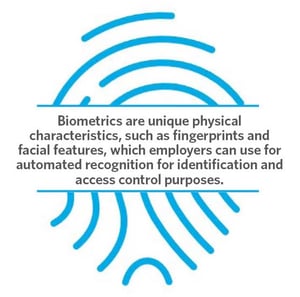 Biometrics are unique physical characteristics, such as fingerprints and facial features, which employers can use for automated recognition for identification and access control purposes. In the workplace, biometrics can assist in providing confidential spaces within secure workplaces. For example, in our new work-from home world, biometrics can help organizations secure company data in the case of a stolen laptop or hacked wi-fi network.
With the pandemic lingering, organizations have been continuing to look for ways to reduce the spread of germs. A time clock, which many employees use, is a logical place to look for alternative technologies, like facial recognition. When using facial recognition on a time clock, the process facilitates the speed of clocking in and out and helps prevent employees from needing to be clustered around the clock(s) to log in and out. However, if employees are required to wear masks due to company policy or illness, they would have to lower their masks to clock in and out, which could still spread airborne germs and defeat the intended purpose.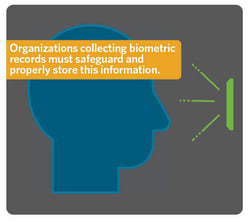 While biometrics are convenient and would end the constant replacement of missing scan cards, facial recognition can raise issues with privacy. Facial recognition software captures Personally Identifiable Information (PII), defined by the Office of Management and Budget (OMB) as "information which can be used to distinguish or trace an individual's identity, such as their name, social security number, biometric records, etc." If this sensitive information falls into the wrong hands, the individual could fall victim to identity theft. Organizations collecting biometric records must safeguard and properly store this information to ensure their employees' PII is secure.
There is also the risk of errors due to flaws in the technology. Current biometric software often does not function well for people of color or women. People wearing hats or glasses, a new hairstyle, varying skin colors, or different facial expressions can also challenge the technology. If the time clock "reads" someone's face incorrectly, the organization must determine how to remedy the situation.
When implementing a biometric time clock into your organization, consider making these features optional and offer a scan card to those who want to opt out. Archbright recommends implementing a timekeeping policy that establishes guidelines and procedures for the collection,
retention, and treatment of biometric data, as well as considerations for accommodation.