Before 2020, many employers reserved remote work for only rare or occasional circumstances. When COVID-19 hit, remote work became, in many ways, the most critical policy in HR's arsenal for keeping their organizations from failing. Even as employees have started returning to work, COVID and the economic forces impacted by it have compelled employers to reimagine the way they envision work. Employees have more bargaining power now than they've had in decades and demand remote work remain on the table. This is a good thing in many ways, but it's not without its challenges.
One unfortunate trend we've noticed on the HR Hotline is the always unsettling call from an Archbright member stating a remote worker moved out of state months ago without telling them. We recommend making it abundantly clear to your entire staff: Employees may not ask for forgiveness as opposed to permission when relocating out of state. Because employment laws typically apply in the state where the employee lives (as opposed to where the employer is headquartered), there can be significant issues of legal exposure when employees leave without telling their employer. For example, California requires employers to reimburse employees for all expenses incurred while they perform their job duties (including travel back to Washington, if it is at the employer's directive), in addition to unique payroll concepts like split-shift differentials, daily overtime, double time, pyramiding, and seventh-day premiums.
Even moves within Washington State can create issues. For example, if an employee relocates from Spokane to Seattle, that employee now has different rules for minimum wage and paid sick leave.
Another unfortunate trend we've noticed—again, with the potential for significant legal complications—is managers being ready to fire a remote worker without having made any attempts to turn the employee's performance around. An employee's physical absence from the office should not invite managerial shortcuts. In many ways, managers need to be more—not less—engaged with remote workers since it's not as simple as pulling them aside when you run into them in the office. To understand why this is so consequential, juries in employment disputes tend to put themselves in the employee's position and ask big picture questions like whether the employer treated them fairly—in addition to whatever the claim is before the court. If a remote worker didn't know they were underperforming, it's an uphill battle for the employer to argue they treated the employee fairly.
Employers should always prepare to show that they took measures to counsel employees struggling with poor performance before moving straight to termination—whether remote or onsite.
Of course, no conversation about remote work is complete without discussing timekeeping issues. Tracking the hours of non-exempt employees who are working remotely can present many challenges. Some employees may not know that a small action like checking email from a smartphone outside of regular work hours must be logged as time worked. Managers contacting non-exempt staff after hours or HR having records showing employees logging in and out of the network without being paid can also add to the potential legal exposure. Employers should instruct their management staff that if they need to contact non-exempt staff after hours, they must ensure the employee logs the time. And a best practice is to periodically audit non-exempt remote employees' time worked compared to the time they're logged in to the network.
Time management issues also seep into the lives of exempt staff as well. The authors of an article in MIT's Sloan Management Review call it the paradox of remote work-life balance. Remote work can strip away commutes and other time-consuming obligations to free up more time for family. However, because the employee's home is now their office, they may feel compelled to remain available at all times. Ensure your exempt remote workers make a clean break at the end of the workday, just like your staff who leave the office when the day is over.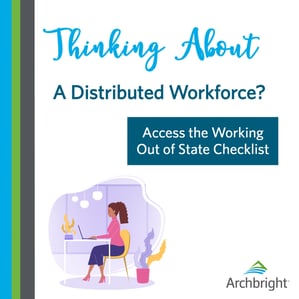 Archbright has an excellent Keynote, Working Out of State Checklist, in mozzo that members should review before granting any remote worker permission to move. Non-members can access this checklist here.
Get unlimited access to the HR & Safety Hotlines with an Archbright membership. Call or email us as many times as you need to, every weekday from 8:00 AM to 5:00 PM, for real-world advice, resources, and a plan of action for the issues facing your workplace.

Whether you need guidance through a complex situation, answers to specific questions, or a trusted colleague to talk through an issue, we are here to help.